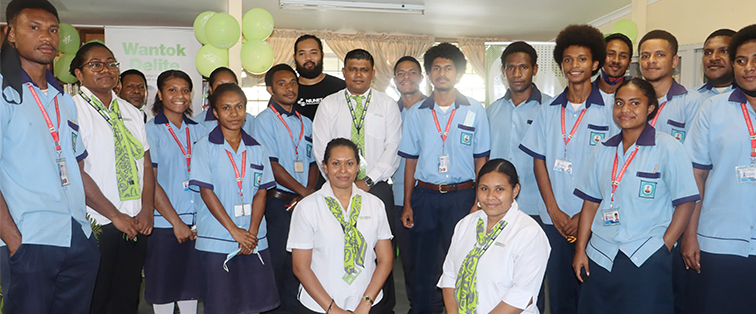 Lwanga Secondary School gets new e-learning equipment
In the hope to empower, inspire and boost academic performance for young minds and future generations, BSP Life PNG Limited handed over computers and access to free e-learning material to supplement the knowledge and skillsets for students at St Charles Lwanga Secondary School in Port Moresby on 12th July, 2021.
Recognised as one of the top performing schools in PNG, St Charles Lwanga Secondary School is known for its high achievements in the last 7 years for topping the Grade 10 National Exams and was among the top 5 performing schools for the 2020 Grade 12 National Exams.
This year, BSP Life PNG – a licensed life insurer and the youngest subsidiary of BSP Financial Group Limited (BSP) team partnered with NiuNet PNG. They installed four (4) new computers containing e-library for students, donated 223 books for the library and various sports balls for students at St Charles Lwanga Secondary School as part of BSP's annual community project initiative for 2021.
BSP Life PNG Limited Country Manager Nilson Singh said, "at BSP Life PNG Limited, we wanted to focus on education as part of our community project for this year. That is why; we are here to deliver this project to the St Charles Lwanga Secondary school. This is our second Community Project delivered by the business to the communities since business inception in 2018. "
"Education is one of the most important investments a country can make in its future and part of that starts here in our schools, in the classrooms and in libraries. School libraries provide opportunities for students to think, create, share and grow. Our priority for this project is to provide more functional collaboration to think-tank-like areas for the staff and students to use effortlessly with the ever-growing technology that is introduced to the education world each year," added Singh. 
Deputy Principal of St Charles Lwanga Secondary School Francesca Muki acknowledged BSP for the much-needed project that the school is planning to move forward with.
"Our students and teachers are very hardworking, this shows in the National Exam results, and this donation is another stepping stone in the right direction for the school.    With the limited resources we share, we can assure you, we will  look after these equipment provided to us with much care for the future generations of this school," added Ms Muki.
This year, BSP will deliver 52 community projects throughout Papua New Guinea with each worth K30, 000 and these will be delivered through each BSP branch, sub branch and Strategic Business Units nationwide. Out of the 52 proposed projects, 16 projects have been handed over to the community amounting to over K480, 000.