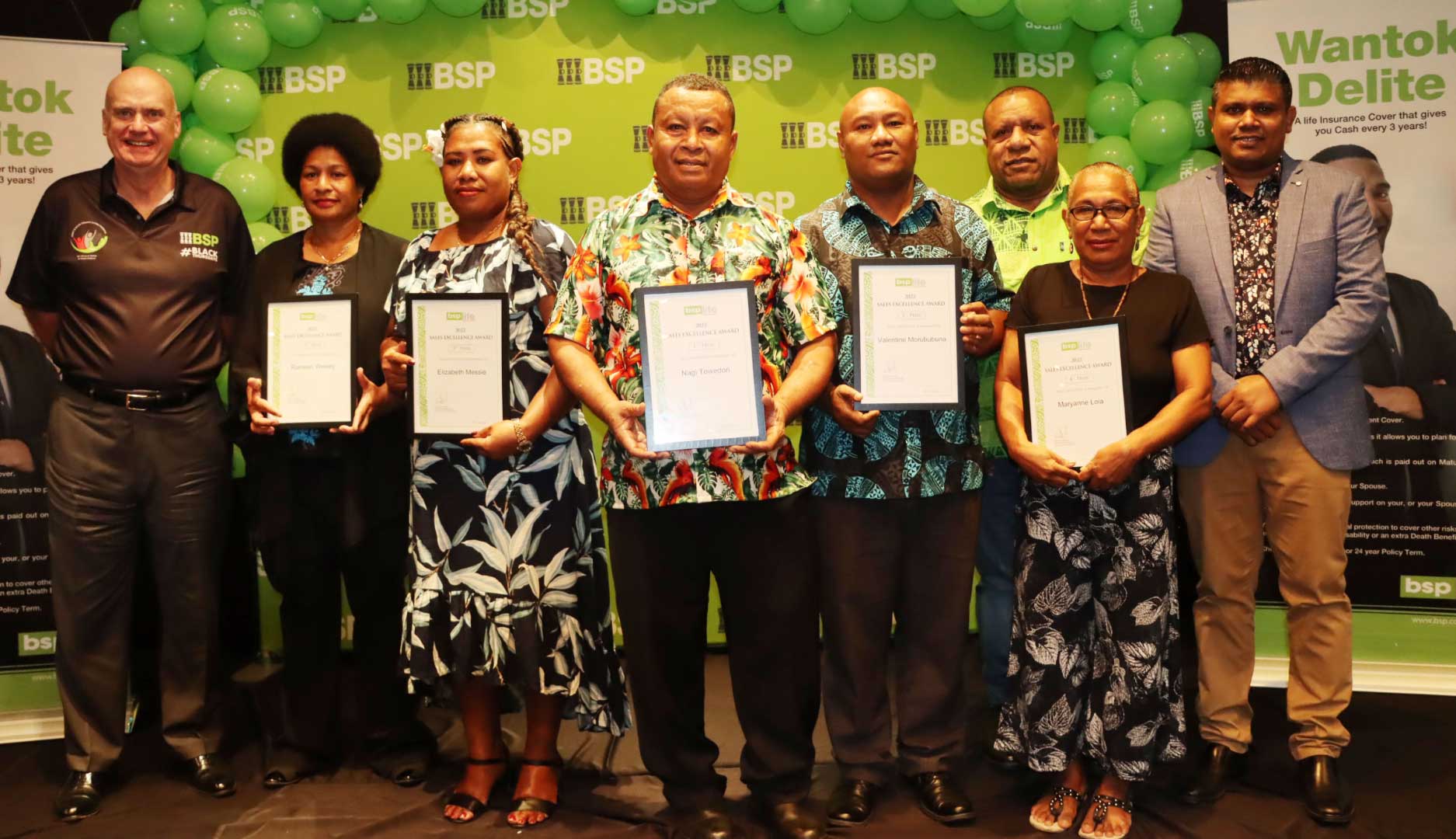 BSP Life PNG Rewards Top Performing Insurance Agents
BSP Life PNG has rewarded 5 of its top performing Sales Agents during its 2022 Annual Sales Awards Night in Port Moresby.
BSP Life PNG is proud to recognise the outstanding effort of its high-performing life insurance agents. The Annual Sales Award recognises and appreciates the Agents for their outstanding sales performance and dedication towards achieving targets during the year. The agents have displayed a strong commitment to their customers, providing them with exceptional support and service during times of need. They have also demonstrated an unwavering commitment to their work, consistently going above and beyond to exceed expectations and achieve exceptional results.
Nagi Towedori from the Lae Sales Team walked away as the Sales Agent of the year by delivering 231 policies with Annual Premium of K346,400 while Valentine Morububuna of NCD claimed the 2nd prize for delivering 189 policies with Annual Premium of K210,200. Elizabeth Messie of NCD earned the 3rd prize with Annual Premium of K200,700, Maryanne Loia received the 4th prize with Annual Premium of K161,400 while Raeleen Wesley received the 5th prize with Annual Premium of K145,300.   
Commenting on the achievements, BSP Life PNG Country Manager Nilson Singh said, "We are proud of our outstanding sales professionals who have delivered impeccable results in 2022. Despite a busy and challenging year, our agents persevered and delivered a much better performance than 2021."
"With the lack of awareness on benefits of life insurance and savings culture in PNG, selling life insurance in PNG is challenging. Large part of the sales process involves educating customers on the importance of life insurance, especially if you are the breadwinner in the family, and how our customers can save through the Wantok Delite insurance product. So congratulations to all our sales agents who put in a lot of effort to sell our endowment insurance product," said Mr. Singh
He added that, "the Annual Sales Awards Night allows us to recognize trailblazers who have exemplified standards of integrity, loyalty, hard work, teamwork, and commitment to ensure our targets are met and customers are provided with the best value offering. We are the youngest sales teams in the industry, being established in 2018, and many of our agents have been able to achieve their potential within a very short period of time, thus, positioning us as a progressive organisation that goes beyond just banking operations."
Mr. Singh also highlighted that, in 2022, BSP Life PNG sold 1,617 Wantok Delite policies with Annual Premium of K3.6m. This was 80% above on policy count and 83% above on Annual Premium basis, compared to 2021, which is an outstanding result. The inforce position on policy count as at 31 Dec 2022 was 2,650 policies with Annual Premium of K6.0m, a staggering 93% increase on policy count and Annual Premium basis, again an outstanding result.
BSP Life PNG has been operating in the country for five years now offering various Life Insurance products since its inception. Recently, establishing its third sales office in Mt Hagen with Port Moresby being the first sales unit in 2020 and Lae Sales unit in 2021. The business is eyeing Kokopo, East New Britain as part of its geographical expansion in 2023.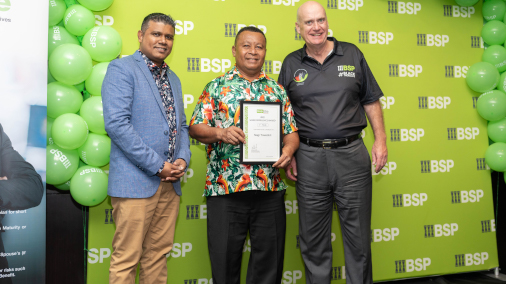 The award winning agent from Lae Nagi Towedori from the Lae Sales with BSP Group CEO Mark T. Robinson (Right) and BSP Life PNG COuntry Manager Nilson Singh (left).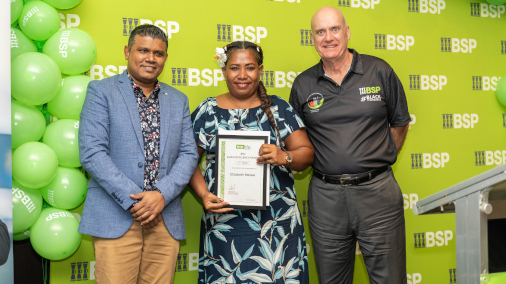 Third place winning agent from Lae Elizabeth Messie with BSP Group CEO Mark T. Robinson (Right) and BSP Life PNG COuntry Manager Nilson Singh (left).