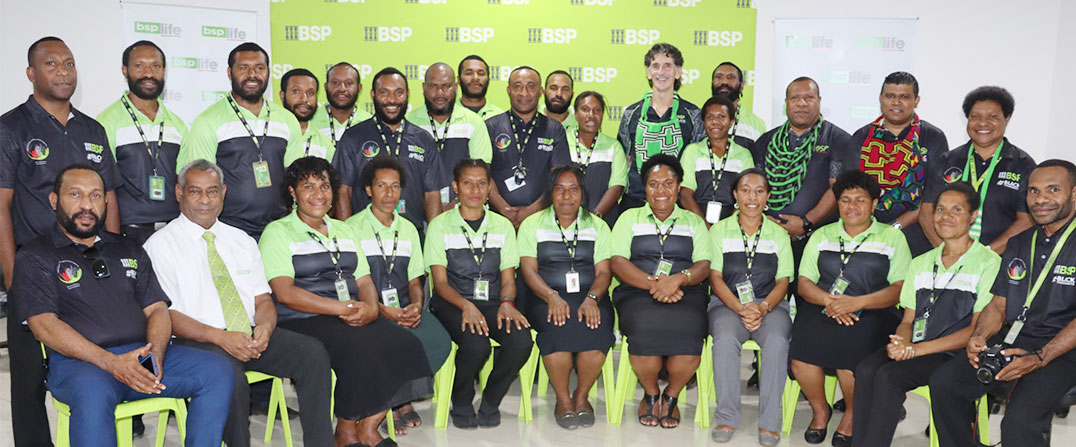 BSP Life PNG Opens Doors in Mt Hagen
In a bid to expand its services in the country, BSP Life PNG, the subsidiary of BSP Financial Group Limited has inaugurated a new sales office in Mt Hagen. It officially opened its new Sales Office on Thursday 1st September, 2022.
The insurance business arm of BSP has been operating in the country since 2018, offering various Life Insurance products since its inception. BSP Life Mt Hagen Sales Office expansion will be its third sales office opened in the country since launch of the Port Moresby sales office in January 2020.
BSP Life PNG Country Manager Nilson Singh thanked the BSP Life PNG Board for supporting the setup in Mt Hagen, and said this new office located on Level 1 of Hagen Plaza will give access to both Corporate and Individual Customers in Mt Hagen to access its products and services.
"We have chosen Mt Hagen as it is the third largest city in the country and a central location for the Highlands Region, hence it was always part of our expansion strategy. This new office will be manned by two full time staff, which includes our Business Relationship Manager, Mr. Friville Dango, Business Relationship Consultant Mr. Steven Siminji and 20 independent insurance agents who will be assisting our prospective customers in signing up for our Insurance Products," added Mr. Singh.
He added: "We did a soft launch on 15 August 2022 and I am happy to share that we have already issued 3 policies and a number of prospective customers are in the process of being signed up."
"If you must know, in Papua New Guinea, less than 3 percent have some form of life insurance while others know little about the benefits of being insured. The biggest challenge in PNG is that Insurance penetration has been generally very low due to lack of market awareness and understanding the benefits of being insured. By opening our doors in Hagen today, we are committed to ensure that we also invest in awareness and educational programs on life insurance, which supports Bank of PNG's financial inclusion programs," he said.
BSP Life is the only life insurer in PNG that offers a Life Insurance product where you can save for the future and at the same time have life insurance protection. "Many of our working Papua New Guineans do not have a savings culture and our Wantok Delite insurance product enables customers to have some disciplined approach to savings, which is beneficial for the long term," added Mr. Singh. 
BSP Financial Group's CEO Robin Fleming began his speech by giving an account of BSP Financial Group (BSP)'s growth over 20 years since being privatized from PNGBC to BSP whilst emphasing on the fact that it is fully Papua New Guinea owned and profit that is generated goes back to shareholders .
He said a lot has changed over the years for the iconic brand from just being a bank and extending into asset finance that's BSP Finance, advisory firm – BSP Capital, and BSP Life.
Mr. Fleming said, BSP Life is the largest Life Insurance business in Fiji, the second largest funds management business and own assets and returns on those assets go to our policyholders and shareholders.
"We rather expand using the knowledge and experience from Fiji, in PNG, because firstly we understand the importance of Financial Inclusion in PNG, Life Insurance is a key component of financial inclusion and equally it is a long term investment that will provide a lot of future capacity to the economy of PNG. Adding, with the savings of our Policyholders, which get reinvested in profitable and economic opportunities. A long term investment which in 10 -15 years' time will see real profits." explained Mr. Fleming.
Mr Fleming concluded by encouraging the agents to use the skills and knowledge gained from the trainings conducted to reach as many customers as they can.
BSP Life offers the Group Term Life insurance product to the corporate market mainly targeting employer based groups and associations. In January 2020, BSP Life launched its Wantok Delite insurance product for individuals which is a long term savings and protection insurance product where one can choose a policy term of 15, 18, 21 or 24 years. BSP Life offers regular cash payouts every 3 years called 'Survival Benefit' and bonuses on maturity. The bonuses are declared every year based on investments performance and added to the sum insured on a compounding basis. In the instance, the policyholder passes away before the policy maturity, and then the full sum insured is paid out to the beneficiary.