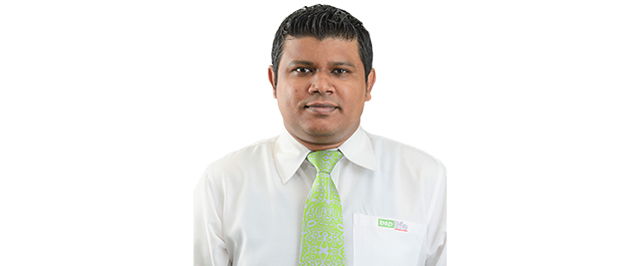 BSP Life PNG and the Importance of Insurance in PNG
"Having a life insurance cover is an important decision an organisation or an individual can make for the welfare and security of its employees and their dependents, something that is not seriously considered by many in Papua New Guinea," said BSP Life Country Manager Nilson Singh.
Insurance is simply about protecting what you care about most. "It also enables you to plan forward for future financial needs and enjoying the proceeds from your life insurance policy if you survive to the policy's' maturity, "explained Mr. Singh.
"Unfortunately, insurance penetration in Papua New Guinea has been generally very low due to lack of market awareness and understanding the benefits of being insured. Less than three (3) percent of Papua New Guineans have some form of life insurance while others know very little about the benefits of being insured. BSP Life aims to create more awareness on this," added Mr. Singh.
BSP Life PNG Limited (BSP Life)
BSP Life is a wholly owned subsidiary of the BSP Financial Group Limited (BSP). It has been operating in the country since 2018, offering various life insurance products since its inception.
"We are a wholly owned subsidiary of BSP, drawing on the wealth of experience and expertise from BSP Life Fiji, which has been in operation for over 140 years.  We are the only insurer in PNG offering an Anticipated Endowment Product. Our life insurance products are aimed at selected market segments to provide an insurance cover that meets corporate and individual needs," Mr. Singh added.
BSP Life– Insurance Products
BSP Life currently offers three (3) insurance products: Wantok Group Term Life, Wantok Secure, and Wantok Delite.
Wantok Group Term Life
This insurance product is for employer-based groups and associations, an annually renewable product, where employers pay premiums annually to provide life cover for its staff as part of employee benefits. Employers who wish to get more information on this product can contact the BSP Life Sales Office in Port Moresby or Lae.
Wantok Secure
This is a consumer credit insurance product, exclusively bundled with BSP's Unsecured Personal Loan product. This product was rolled out in January 2018, and provides payment of outstanding loan balance and K5,000 in funeral benefits to the appointed beneficiary should the borrower pass away during the term of the BSP Personal Loan. This is a free life insurance cover to all BSP unsecured loan borrowers where premiums are paid by the Bank.
The K5,000-funeral benefit assists the family of the deceased with funeral expenses, something that is very expensive in PNG.
Since inception up until 31st  August, 2021, BSP Life PNG has paid out over 600 claims totaling K11.2m; of this, K3m was for funeral benefits and K8.2m for repayment of borrowers outstanding Personal Loan balance.
Wantok Delite
In January 2020, BSP Life launched its Wantok Delite insurance product for individuals, which is a long term SAVINGS and PROTECTION insurance product where one can choose a policy term of 15, 18, 21 or 24 years.
With the Wantok Delite insurance product, a key feature of this product includes regular cash payouts every three (3) years called 'Survival Benefit' throughout the term of the policy, and this payout is 10 percent of the sum insured. Additionally, bonuses are declared every year based on the performance of BSP Life's investment portfolio, and the declared bonuses are added to the sum insured on a compounding basis. In the instance that the policyholder passes away before the policy matures, the full sum insured is paid out to the beneficiary with the accumulated bonuses. Should the policyholder survive the term of the policy, the balance of the sum insured and the accumulated bonuses are paid to the policyholder.
"BSP Life is the only life insurer in PNG that offers this type of insurance product where you can save for the future and at the same time have life insurance protection. Many of our working Papua New Guineans do not have a savings culture and Wantok Delite enables customers to have some disciplined approach to savings, which is beneficial for the long term," Mr. Singh explained. 
Over 1,200 Wantok Delite insurance policies have been sold in PNG since 2020 despite challenges associated with Covid-19 resulting in lockdowns and affecting businesses. It clearly demonstrates that there are a number of Papua New Guineans, who are serious about saving and having insurance cover.
"Papua New Guineans who are serious about getting a policy with BSP Life can visit our Sales Offices at Boroko or in Lae. For more information, visit the BSP Life website on www.bsplife.com.pg and be more informed about the life insurance products on offer or arrange an obligation free appointment with one of our insurance agents by emailing servicebsplife@bsp.com.pg.
"Our message is simple, it is important to save, it pays to have life insurance and you can trust BSP Life PNG to honour our commitments," concluded Mr. Singh.