BSP Life Launches New Insurance Product
In making this announcement, BSP Group Chief Executive Officer Robin Fleming said: "BSP Life PNG, as part of the BSP Group is a wholly owned subsidiary, has an independent board and is well capitalised. Apart from the launch of Wantok Delite, we invested in a new Life Insurance system called BLIS in 2019 which will enhance our service delivery to customers now and into the future. It also allows BSP Life to develop innovative products like Wantok Delite in a short period of time enabling us to keep up with changing customer needs."
Wantok Delite is a long term savings and protection insurance product where one can choose a policy term of 15, 18, 21 or 24 years. BSP Life PNG offers regular payouts every 3 years called 'Survival Benefit'.
BSP Life PNG Country Manager Nilson Singh, explained that Wantok Delite will enable more Papua New Guineans, including job starters and small business owners to enjoy the benefits of having life insurance, "we believe it is a great product for customers providing long term savings opportunities with life insurance protection."
Mr. Singh added that: "You can also choose to add one of the rider products to your Wantok Delite Policy. These include:
Term Life Rider – which pays out the sum insured on the death of life insured;
Accidental Death Benefit Rider – which pays out sum insured on the accidental death of the life insured; and
Accidental Total and Permanent Disability Rider- which is an advance payment of the death benefit in the event the Insured becomes totally and permanently disabled through an accident.
BSP-Life-wantok-delite-product-launching_Large
Mr Ellison Pidik Assistant Governor of Bank of PNG, Mr Nilson Singh Country Manager BSP Life PNG, Mr Rabi Namaliu Jnr Independent Director of BSP Life PNG, Mr Anthony Yauieb Independent Director of BSP Life PNG and Mr Robin Fleming GCEO of BSP.
He said the premiums paid to BSP Life PNG will be invested in a pool of assets. Based on the performance of these assets BSP Life will declare a bonus every year. Once a bonus is declared it is guaranteed and added to the policy on a compounding basis.
The insured can also add their spouse as a second life insured with a Term Life Rider. If during the policy term something unexpected happens to your spouse then you get the sum insured for your spouse paid out and your policy still remains in force.
Bereavement support is also provided as a partial payment of the death benefit. K5,000 or 10% of the death benefit whichever is lesser is payable on the death of the primary insured or spouse to help with funeral arrangements.
Free Interim Accident Cover is also offered whilst application is being considered. The benefit will pay K50,000 or the amount equal to the sum insured whichever is the lesser on the accidental death of the primary insured.
Mr. Singh added: "We provide examples of scenarios to give an understanding and/or an indication of the premiums on this product.
"Assume a 30 year old acquires a K20,000 sum insured Wantok Delite policy with a policy term of 24 years. His premiums will only be K46.75 per fortnight.
As the Primary Insured he also decides to acquire a K80,000 sum insured Term Life Rider which will cost him K12.50 per fortnight.
He is married so also acquires a K60,000 sum insured Term Life Rider for his spouse at a cost of K9.36 per fortnight.
His total premium payment per fortnight is K68.61.
"His payouts using 3 scenarios will be:
Firstly let's assume, the Primary Insured survives the policy term. He would have received K14,000 in Survival benefits at K2,000 every 3 years. On maturity he will receive an estimated K18,169 which includes accumulated bonuses. That's a total payout of K32,169.
I would like to reiterate this projection is based on assumed bonus rates which are not guaranteed. Bonuses are only guaranteed once declared every year and will change based on investment performance.
Secondly let's assume the Primary Insured's Spouse passes on during the policy term, the amount payable to the Primary Insured is K60,000 for the Spouse's term life cover. The Wantok Delite policy continues to remain in force.
Finally let's assume the Primary Insured passes on before the end of policy term. His beneficiary will receive K20,000 plus any accumulated bonuses plus K80,000 for the Term Life cover. That's a total payout of over K100,000 to support his family.
BSP-Life-wantok-delite-product-launching_Large2
BSP Life country manager Mr Nilson Singh (middle), BSP GCEO Mr Robin Fleming (second from right) and BSP Life staff.
Mr. Singh encouraged Papua New Guineans who do not have life insurance cover, to talk to BSP Life Insurance Agents, who will guide them on a suitable insurance cover.
"Talk about the need for Life Insurance with your family and friends on how important it is to be prepared for unexpected times. Our message is simple, it is important to save, it pays to have life insurance and you can trust BSP Life to honour our commitments."
Wantok Delite has been developed in line with the Bank of PNG's financial inclusion efforts to spread coverage and have more Papua New Guineans insured.
Read the Wantok Delite Brochure for more information.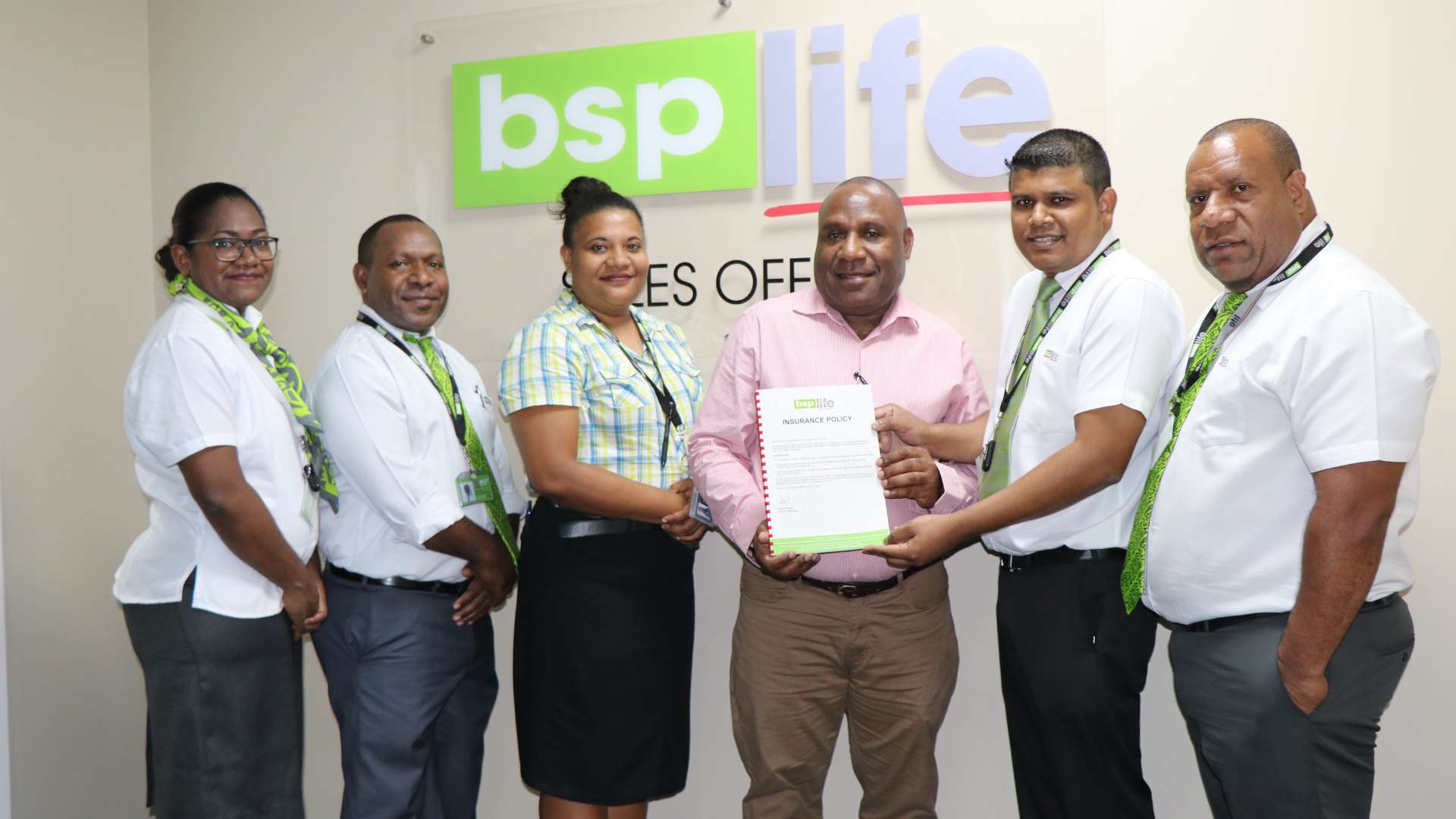 BSP PNG First Policy Holder