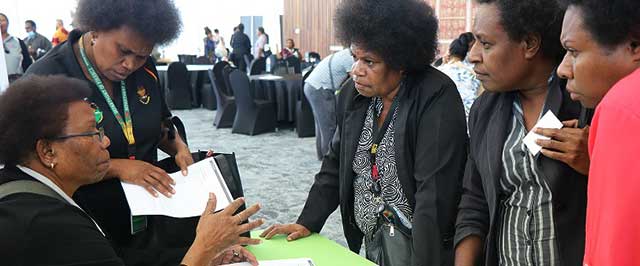 BSP Life PNG Agent Nancy Ebbes with interested Finance dept staff after insurance presentation
BSP Life insures 300 despite Covid-19 challenges
Mr. Singh said that Life insurance is not something that has been taken seriously by many. In Papua New Guinea, less than 2 percent have some form of life insurance while others know little about the benefits of being insured.
In his presentation to the Department of Finance Staff at the APEC Haus in Port Moresby on Friday 3rd July, 2020, Mr. Singh introduced BSP Life PNG's Wantok Delite Insurance, a long term savings and protection insurance product where one can choose a policy term of 15, 18, 21 or 24 years. BSP Life PNG offers regular cash payouts every 3 years called 'Survival Benefit'.
He added that the key feature of the product is the savings and protection being bundled together. "BSP Life PNG is the only life insurer in PNG that offers this type of Insurance product where you can save for the future and at the same time have life insurance protection. We all know that PNG does not have a savings culture and Wantok Delite will enable a lot of Papua New Guineans to start their savings"
"The response has been really good wherever we have presented on the features and benefits of Wantok Delite. The biggest challenge in PNG is that Insurance penetration has been generally very low due to lack of market awareness and understanding of the benefits of life insurance," Singh added.
With the Covid-19 protocols less restrictive, BSP Life Insurance Advisors whilst observing the measures in place under the National Pandemic Act, are now able to recommence one-on-one engagement with customers to understand their financial goals before signing them up for a policy.
"BSP Life PNG is a credible life insurer in the market whom you can trust to honour our commitments when due. We pay 10% of the sum insured every 3 years with the remainder plus bonuses earned on maturity. Every year our policyholders will earn a bonus on their policy based on how our investments perform," Singh said.
"At BSP Life PNG, we are passionate about life insurance. With events like this we try to reach as many Papua New Guineans and create awareness on Life Insurance products such as Wantok Delite, and help them save long term, and at the same time provide family protection."
Companies and organisation who wish to have information sessions such as the Department of Finance Information Session can contact BSP Life PNG to organize. Covid-19 protocols will be practiced in all events.