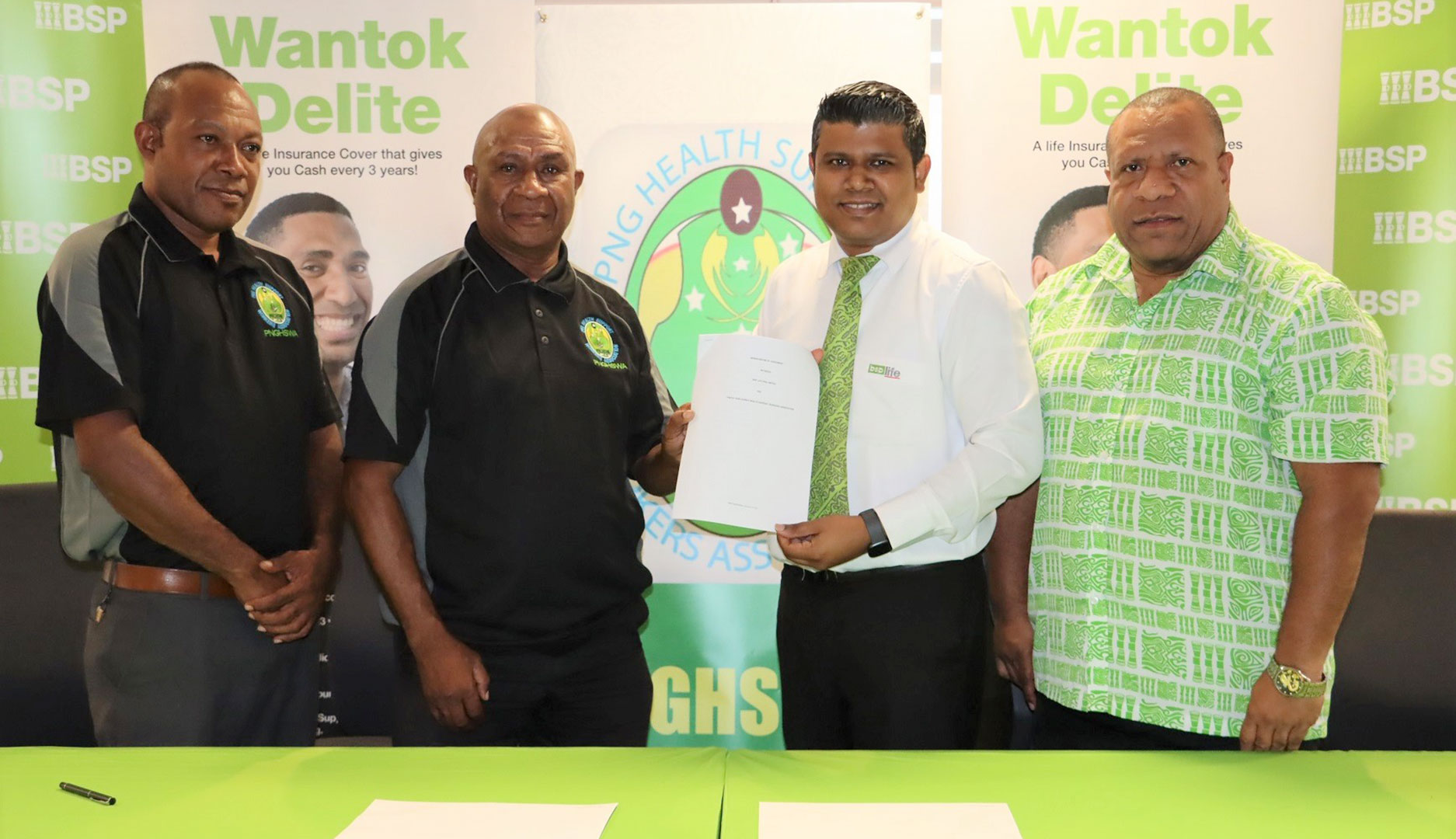 BSP Life insurance signs MoA with first Association
The PNG Health Support Workers Association Inc. (PNGHSWA) has become the first association to enter into an agreement with BSP Life PNG, that will be offering its 2,000 plus members the Wantok Delite Endowment Insurance Product.
BSP Life PNG Country Manager Nilson Singh described the signing as a historic event for the association's 2,000 plus members, enabling them to be insured for the death benefit as well as save for the future. "It's a huge milestone because PNGHSWA is the first association who has taken this step to sign up with BSP Life for an endowment insurance product. All the engagements we have had so far has been with groups, where its for the risk based product where we have only provided the protection benefit. 
"You should be proud of this achievement for your members. Your members will come back and thank you when they start receiving the cash survival benefit after 3 years, you are not only enabling your members to be protected, you are enabling your members to save with life insurance," Mr Singh said on Friday 19th May, 2023.
"Life Insurance is very important, you only realise it when the breadwinner of the family passes away and there's no safety net for the family to rely on. In Papua New Guinea, less than 3 percent of the population have some form of insurance. The low uptake is mainly due to lack of awareness on the benefits of life insurance," he added.
President of PNGHSWA Inc Michael Laru on behalf of its members nationwide thanked BSP Life for assisting its members not only get insured but also helping them save.
BSP Life is the only life insurer in PNG that offers a Life Insurance product where you can save for the future and at the same time have life insurance protection.
Mr Singh said many of our working Papua New Guineans do not have a savings culture and our Wantok Delite insurance product enables customers to have some disciplined approach to savings, which is beneficial for the long term.
Life Insurance is a key component of financial inclusion and equally it is a long term investment that will provide a lot of future capacity to the economy of PNG. BSP Life offers the Group Term Life insurance product to the corporate market mainly targeting employer based groups and associations.
" In January 2020, BSP Life launched its Wantok Delite insurance product for individuals which is a long term savings and protection insurance product where one can choose a policy term of 15, 18, 21 or 24 years. BSP Life offers regular cash payouts every 3 years called 'Survival Benefit' and bonuses on maturity. The bonuses are declared every year based on investments performance and added to the sum insured on a compounding basis. In the instance, the policyholder passes away before the policy maturity, the full sum insured is paid out to the beneficiary." concluded Mr. Singh.

BSP Life PNG Country Manager Nilson Singh and his team with the PNG Health Support Workers Association Inc executives after the MoA signing last Friday 19th May, 2023.